A meeting of
SBI
Pensioner's Association (
Thrissur
Unit) was held yesterday.. The meeting was held at the Main branch premises at 4.00pm. It was the first meeting of the Association which I attended. M.J.Raphel, the President of the state unit was on the chair. So was M.R.Janardanan who is also an office bearer.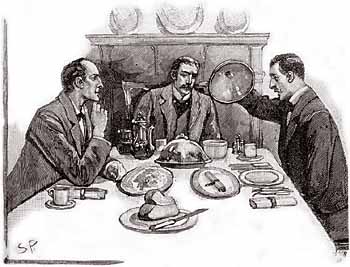 I was reminded of an incident in a Sherlock Holmes short story, Naval Treaty I think, where Dr.Watson comes across one of his old class fellows. Watson states in his memoirs that there is no sorrier sight than to encounter the wreck of person who one
remembered
from olden days as a fine human specimen. He adds that he saw the same thought reflected in his friend's eyes keenly appraising him.
The
colleagues
from the past whom I met were not all physical wrecks but were definitely a shadow of their
earlier
selves. With one exception.
Easwaran
had the same freshly scrubbed look and positively glowed! Even Raphael was a bit jaded. I am sure Father Time must have been even more unkind to me with physical flexibility all but gone.
The meeting was true to style. Some of the speakers were so far removed from reality they were talking about 'militant' action to force the Govt. to accede to the demands of the Association! Even their grandchildren will not be frightened by their militancy. One '
pazham
pori
' and coffee was served (Courtesy Bank?). It was the usual stuff but unlike their serving days, some member's declared that it was quite good! Anything free seems to be appreciated after retirement!
I may not attend future meetings. It only helps to add more years to the 61 odd years. In a few hours you age a couple of years. I think I will look out for younger company or a different kind of company or keep my own company. No one seems to have taken up any new hobby or occupation possibly with the exception of
Easwaran who now mingles with the film crowd!
I must say I was looking forward to meeting old friends with some pleasure. It was a big let down. Either I have changed too much or they have or both have changed a bit. I think this idea of revisiting places one knew in the past or trying to renew old ties is not always a good idea. The Old students Association meeting at Govt.Victoria College some months ago was an even greater let down. It must be the burden of expectation. The inevitable change that has taken place over the years comes as a shock, however one may try to anticipate it or make allowance for it. I think from now on I should just enjoy the ride without actively seeking out destinations